About Our Company
Our fairy tales not only provide entertainment for children and adults, but they also teach valuable life lessons and encourage a lifetime of creativity and self-expression. Our mission is to raise a young theatrical audience and instill a love for theater and the arts. Our plays are very interactive and give kids the chance to think and make decisions on their own.
---
Our Story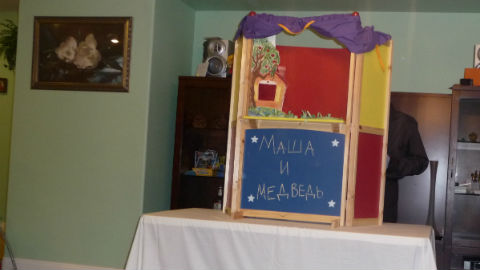 Welcome to our theater! My name is Yelena Protsenko and I am the owner of Puppet Theater on Wheels. As a professional actress, I have always wanted to find a way to bring theater to the lives of children. I am very passionate about the art of theater and have always felt that it was imperative that the next generation be exposed to the art as well. The original idea of Puppet Theater on Wheels was born from this passion and experience. This theater allows me to bring theater,imagination, magic and enrichment into the lives of children through timeless fairy tales.
Our company got started when I decided to create a puppet show for my son's birthday. At the time all we had was a borrowed small tabletop puppet stage and our imaginations. The show left such an impression on my son and his friends that I decided we needed to have our own puppet stage.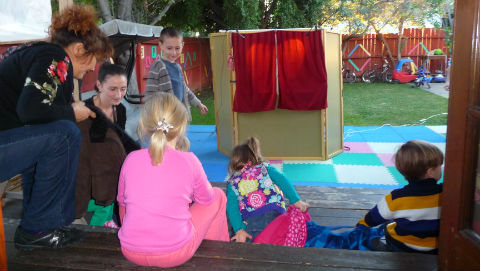 Several months later, we designed and built our very own stage and created an even bigger production for my son's next birthday. We invited his school friends and their parents. Everyone that attended the show started asking for business cards of the company that performed. We told them that it was us performing and they were so excited to see such unique birthday party entertainment. From that point on we decided to create a mobile puppet theater and took our act on the road.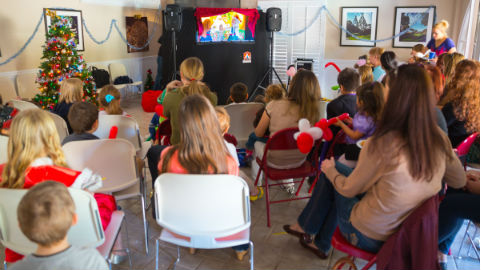 In September of 2012, we officially opened up our company and our professional puppet theater journey began. Throughout our short history we have had the opportunity to renovate and expand our theater and add a brand new stage, custom backgrounds, handmade custom puppets, unique music and many other amazing additions. Our professionally trained multilingual staff has grown as well. We work with talented actors, singers, songwriters, puppet builders, technical support and administrative professionals. Each of them brings something special to our team and we are grateful to have them. Since this all started at my son's birthday party we have made a tradition of releasing new productions at our children's birthday parties and we continue to share these amazing productions at birthday parties and other special events.
---
Our Clients/Partners